FRSR

Colorado Premiere Landscaping Company

Established in 1994, FRSR began as a small residential sprinkler repair company. Based on the philosophy "Provide excellent customer service at a reasonable price," FRSR quickly became a strong company, providing local customers with quality and value.

In 1996, FRSR added an award-winning Landscape Construction division. Honored by Pulte Homes of Colorado, Tallyn's Reach (site of the 2000 Parade of Homes) and numerous others, FRSR's methods and quality have been recognized across the state.

In 1999, FRSR added a Landscape Maintenance division. Caring for some of Colorado's largest and best properties, FRSR has been honored with more than a half-dozen Excellence in Maintenance awards.

In 2004, FRSR added their award-winning Stamped Concrete/Hardscape division. Designing and installing unique outdoor living spaces that few companies can match has become our specialty. FRSR employs some of the pioneers of the stamping business to bring their knowledge and expertise to every project we undertake.

We have also won various awards from both our Landscape and Hardscape Divisions from the Colorado Garden & Home Show, City of Broomfield and Various other Metro Areas. FRSR has also been named the Landscaper of the year for the Broomfield Area 8 years running.

FRSR has also had the privilege to be a Feature Gardner at the Colorado Home and Garden Show for the past eleven years, and we have proudly won various awards for our design and implementation.

After all the growth and accolades, FRSR's original philosophy still remains: Provide excellent customer service and product at a reasonable price.

FRSR welcomes the opportunity to place a bid on your entire landscape construction project. Please feel free to contact me if you need any further information.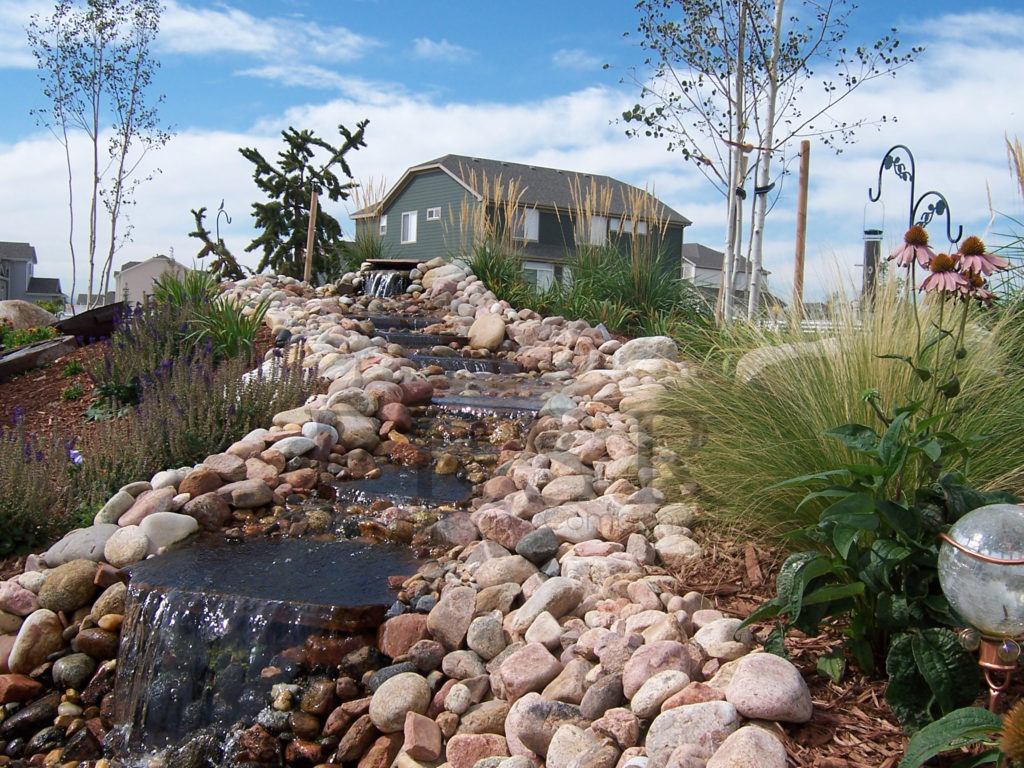 Eric Fuerst
Manager FRSR, LLC.
eric@frsrllc.com
303-862-7045
Founder of Front Range Sprinkler Repair (c.1993 - now FRSR.), member of the various Landscape Associations. After attending Colorado State University, Eric diversified the business into the design/ build firm which operates today from its sprinkler repair roots. Eric participates in all aspects of the daily operations, from design and sales to customer relations. His determination to produce unique outdoor environments will exceed each customer's expectations, while setting FRSR apart from the competition.
Matt Walker
Sales Manager/Designer
matt@frsrllc.com
970-214-9554
I have been in the landscape industry for over 20 years now, most of this time was running a business of my own. I enjoy all aspects of the industry and right now I enjoy doing the designs, sales and estimates for FRSR. I love the creativity that this job offers and creating my clients outdoor living space that they will enjoy for years to come. FRSR offers high end landscape and hard scape installation for a reasonable price, which makes my job easy and fun. I plan on staying in the landscape industry and with FRSR for years to come and adapting to the changes and challenges that come with the landscape design industry.
Adam Walker
Project Manager
adam@frsrllc.com
303-601-6506
I have been in the landscaping business for over 20 years and enjoy creating the perfect outdoor experience for homeowners. The relationships I have built over the years with both the customers and our crews has made it a very rewarding career. It's easy for me to bring an upbeat and positive attitude every day to work when I love what I do. It is my belief that complete customer satisfaction is a must in this industry. It is very satisfying to me to see customer's exhilaration when we have completed a beautiful outdoor setting for their home. I am dedicated to making the process for the customer worry free with 100% satisfaction.
Adam is an ICPI Interlocking Concrete Pavement Institute Certified Installer


Roberto Torres
Lead Concrete/Crew Foreman Roberto has been in the landscape industry since 2004. Joining our team in 2006, Roberto brought with him diverse skills in both concrete installation and landscape construction. His knack for blending these two distinct phases of a landscape project is unprecedented. During our busiest times, when our workload becomes extreme and project schedules take priority, Roberto is an essential part of our team in getting the job done.
Martin Ramirez
Crew Foreman Martin Joined our team here at FRSR in 2007. He oversees all phases of Landscape Construction. His experiences include Landscaping (sprinkler systems, plants, sod, edger, retainer walls); Outdoor Carpentry (decks, steps); Hardscape (concrete, exposed aggregate, brick, flagstone, and paver); and Masonry (firepits, outdoor kitchens, seatwalls) . Martin's solid method of construction is the foundation for our most successful landscape projects.
Joaquin Cordero
Crew Foreman Joaquin joined our team here at FRSR in 2010. While his education was in Business Administration, his passion and interest has been in landscape installation and construction, making him one of our most valued employees. Joaquin brings a practical, common sense approach to all of his projects and always seems to exceed our expectations. We are proud of his accomplishments here at FRSR.
Our

Philosophy
FAIR
FRSR strives to maintain the most fair and competitive prices around. You deserve the best quality and service you can find, and FRSR offers both at affordable prices.
RELIABLE
Our highly trained crews know the importance of prompt delivery of our products and services. We strive to provide timely and accurate service the first time, every time.
SUPERIOR
With a combined level of experience of over 30 years in the industry, our team of professional technicians and designers offer a superior level of quality and performance that is difficult to find in this day and age.
RESPONSIBLE
FRSR realizes that we only get one world in which to live. A water wise company, we encourage our clients to examine alternate maintenance programs and designs that help protect our most precious resource.

FRSR - A Landscape Company 7050 West 120th Ave. Suite 205B Broomfield, CO 80020